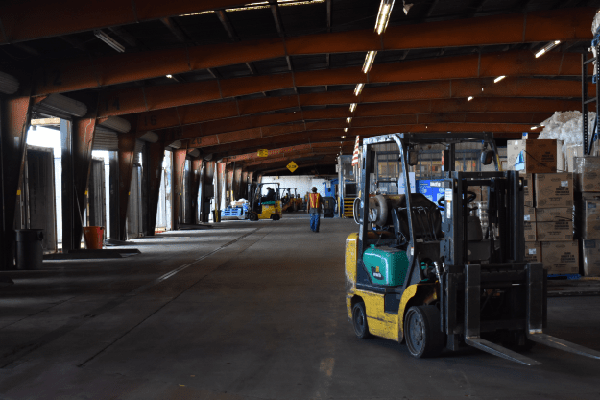 One of four PCC Logistics locations in Oakland CA, the 7th St. location offers a full range of warehousing and trucking services and specializes in handling temperature sensitive cargo. This facility has access to three major Northern California ports and is served by both the Union Pacific and Burlington Northern Santa Fe Railroads.
Adjacent to both the Burlington Northern and Union Pacific Railroads, all steamship terminals, and with easy access to all major freeways, both refrigerated and dry cargo moves through this facility in a timely and efficient manner.
Please contact our Oakland 7th St. facility customer service group for additional information about our services listed below.
Warehousing & Distribution
Consolidation (Dry/Reefer)
Dry storage (Short and Long-term)
Customs Bonded
Refrigerated Services
Refrigerated Container Protection Plugs
Cold Storage
Chilled Docks
Chilled Storage
USDA / FDA Inspections
AMS Russian Certification
Rail Services
Transloading, cross-docking, unloading and consolidation of trucks, overseas containers and rail cars
Inventory Management System
Oversize, Overweight and Project cargo
Emergency Transloads
Legalized Overweight Loads
Automobile Loading
Specialized Services
85,000 Square Feet
34 Truck Door & 21 Railcar Capacity
Serving Port of Oakland, San Francisco, & Richmond
Division 28
4140 E. Marginal Way
South Seattle, WA 98134
P: (206) 274-5502
Division 27
19302 S. Laurel Park Road
Rancho Dominguez, CA 90220
P: (562) 371-1818
Division 31
19914 S Via Baron
Rancho Dominguez, CA 90220
P: (424) 233-4500
Division 09
2498 W 16th Street | Building 803
Oakland, CA 94607
Exams: (510) 663-5000
Import/Export: (510) 844-1455