The Food & Beverage Supply Chain
There are specific supply chain needs with food and beverage transportation, especially when delivering to places like restaurants and grocery stores. Time, temperature, and stability are all things that need to be considered when transporting any foods and beverages that are meant for human consumption.
The food and beverage supply chain has different steps, and some may be skipped depending on what product is being shipped, but it generally goes as follows:
Raw goods/agriculture
Warehousing
Processing
Distribution
Retailer
Consumer
Temperature-controlled trucks or containers are necessary for food and beverage items. Items like produce, meat, seafood, and beverages rely on strict deadlines to ensure their freshness when delivered to the retailer or consumer, while more shelf-stable items will have more flexibility with their delivery times and temperatures.
The global food supply chain is extremely complex but is an important logistics program that still faces many challenges and is constantly changing.
"Technology is always evolving, and the demand for safe, fresh food is rising, making it vital to understand the food and beverage supply chain and the challenges it poses."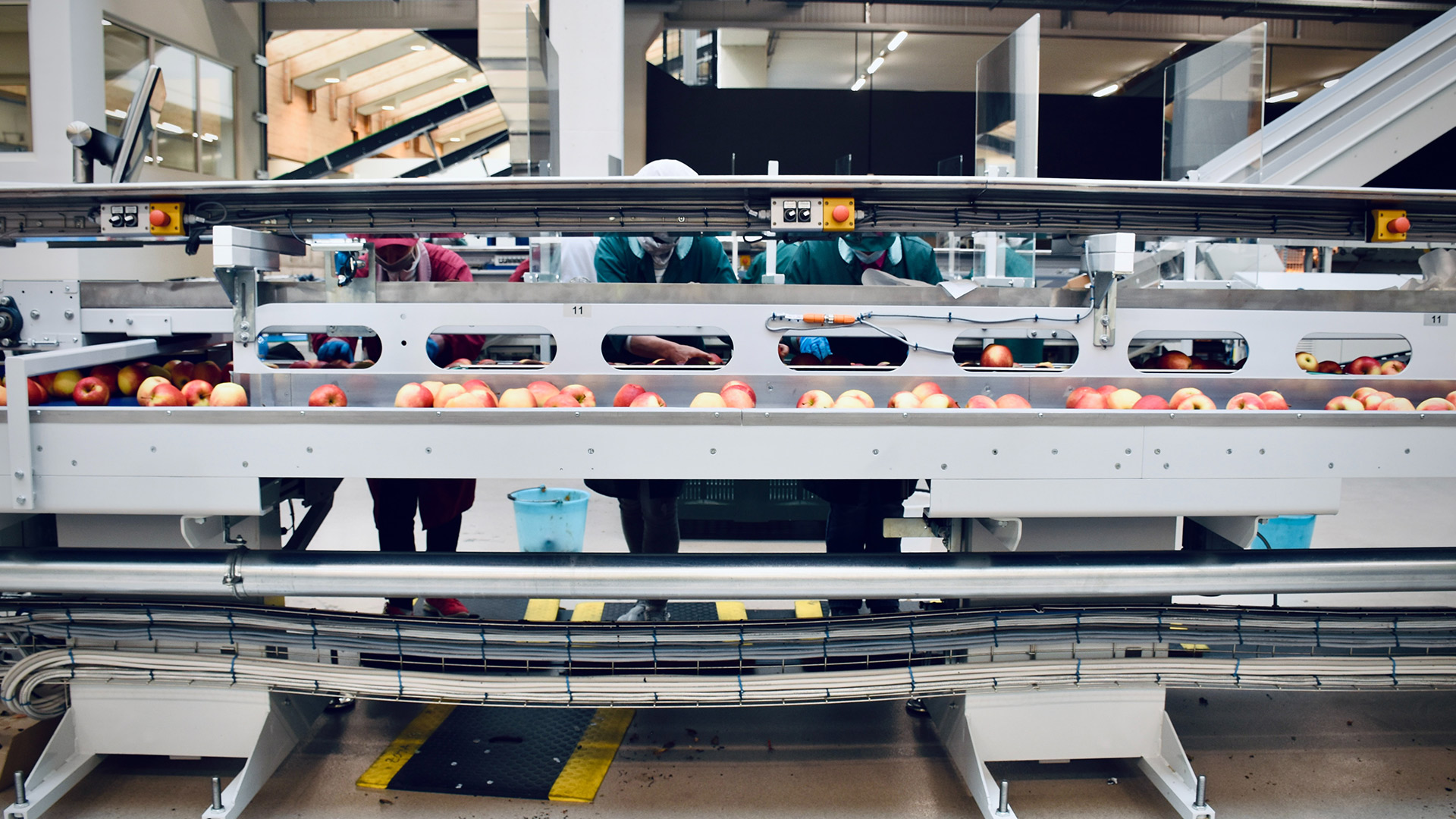 There are many foods and beverages that are perishable, so a temperature-controlled environment is necessary to maintain the integrity of the product. Refrigerated transport will not only work for frozen and fresh items, but also can add benefits when traveling through higher temperatures.
In order to work around having to use a temperature-controlled option, shipping during winter months can be done with perishable items as long as their temperature is closely supervised.
Challenges in the Food and Beverage Supply Chains
When we talk about challenges, we see them as problems and it can feel overwhelming. But these problems can also allow for opportunities to solve these issues. Everyone in the supply chain can work together with transparency and excellent communication to create a more efficient way to accomplish goals.
Any disruptions along the supply change can have a ripple effect in each stage. By identifying the challenges within it and being able to plan or prepare ahead of time, many businesses can avoid delays or shutdowns.
Here is what the supply chains are currently facing and what they can expect in the future:
High Demand For Food Shipping Traceability
Traceability is necessary to comply with growing food safety standards, but it also gives peace of mind to consumers. More and more consumer agencies have reported that the public is becoming aware of the dangers of food contamination throughout the supply chain.
Most food-borne illnesses start or expand in the food supply chain, so retailers and suppliers must document every part of the process. This keeps consumers safe, protects brands, and avoids legal action for disruptions.
Poor Communication Within the Supply Chain
Food and beverage companies aren't required to create relationships with materials suppliers and transportation providers, which leaves plenty of room for mistakes and miscommunication to happen. Any missed deadlines can affect every part of the supply chain and cause delays.
"When it comes to shipping food, delays mean possible spoilage, bacteria growth, or food recall issues. A reliable 3PL Partner is equipped with the resources and equipment to avoid any costly mistakes."
No Honesty or Transparency in Logistics
There is no way you can effectively run a business of any kind without honesty and transparency. Manufacturing and shipping mistakes will heavily impact customer satisfaction, but they can also be deadly regarding food spoilage.
Some companies have started using continuous communication logs, so they are connected at all times and able to share data, including the cargo location, temperature and humidity readings, and inspection checkpoints. With this sort of transparency comes peace of mind, and it holds every part of the supply chain accountable.
Food fraud is the intentional adulteration of food or beverages by misbranding, substituting a product for another, using approved additives, enhancement, or intentional contamination with various substances.
Not only are you not getting what you paid for, but your customers are not either, and that becomes a liability concern. There are more than 50 million Americans that have an allergy of some kind, making it a huge health risk if you don't know exactly what you are getting from your supplier.
Supply Chain Solutions With PCC Logistics
At PCC Logistics, we are your 3PL partner that can scale up to meet your needs with a variety of services without sacrificing quality. The food and beverage industry is highly competitive, and we want to be the strongest link in your supply chain to avoid disruptions.
We offer temperature-controlled shipping for perishable products and have the capability to add capacity as needed while keeping your costs down as demand increases. Get in touch with one of our team members today.
Solutions-driven logistics to service every mile.